REVIEWS FOR "LAST CHANCE" (2021)
CHICAGO BLUES GUIDE (APRIL 2021) - LINDA CAIN (U.S.A.)
https://www.chicagobluesguide.com/post/pat-smillie-last-chance
REVIEWS FOR "LONESOME FOR A LONG TIME" (2019)
BLUES MUSIC MAGAZINE (Winter 2020) - A.J. Wachtel (U.S.A)
"He comes from the Joe Cocker school of singing - a throaty, take-no-prisoners, powerhouse voice bursting with passion and preaching. He has a 'saints and sinner' voice that sounds like it has experienced all the highs and lows of life and is now screaming and shouting them back to you...a masterful and soulful r&b vocalist."
BG: BLUES AND MUSIC NEWS (10/26/19): PAT SMILLIE: MOTOR CITY MUSIC MAN HITS A HOME RUN WITH "LONESOME FOR A LONG TIME" - Todd Beebe (U.S.A.)
https://bg.buddyguy.com/pat-smillie/
WLLZ 106.7 FM (10/11/19): PAT SMILLE: THE NEW GENERATION OF BLUES IN DETROIT - Doug Podell (U.S.A.)
https://www.spreaker.com/user/11175036/doc-pat-smillie?fbclid=IwAR1blF3zXOzepA_6orF2qzzQrW1wLDq3bmhtYXoAhpUytZlpBdXb_0BdMOk
METRO TIMES (10/9/2019): City Slang / Staff Pick - Jerilyn Jordan (U.S.A.)
https://www.metrotimes.com/city-slang/archives/2019/10/09/metro-detroit-rock-mainstay-pat-smillie-releases-first-record-in-a-decade-at-token-lounge
BIG CITY RHYTHM & BLUES MAGAZINE (Dec 2019/Jan 2020) - Bob Monteleone (U.S.A.)
"Pat Smillie is a Detroit-based soul/blues singer who performs with his own band as well as with guitarists Jim McCarty (Detroit Wheels, Cactus) and Dennis Coffey (Motown session luminary). Originally from Detroit, Smillie earned a reputation as a powerhouse vocalist on the Chicago blues scene, including a residency at the legendary Checkerboard Lounge. Relocating back to the Motor City in 2015, he hooked up with the esteemed guitarist, bandleader and producer Josh Ford (aka Motor City Josh). Lonesome For A Long Time is Smillie's first release in ten years, a six song EP filled to the brim with full productions, four of which feature Keith Kaminski's (Bob Seger) horn arrangements. Produced by Ford (who plays bass on the recording) and Smillie at Ford's Sound Shop Studio, all of the songs are originals, mostly co-written by Smillie and Ford. Smillie is kind of a northern version of Delbert McClinton, effortlessly handling blues, rock and soul styles in the vein of Joe Cocker, Mitch Ryder and classic soul singers Otis Redding and Wilson Pickett.The catchy "Ain't No Doubt About That" starts things off with a bouncy Motown groove, with the ever present horns punctuating the accents with back-up vocals from Tina Howell and Ashley Stevenson, who sweeten five of the tracks. The title track is built on a strong early 70s Memphis backbeat, and sounds like it could have come off a classic Bob Seger or (gulp!) Kid Rock album. Nice solo by guitarist Johnny Rhoades. "Boulder City Breakdown" is a vehicle for guest Jim McCarty, who takes us back to his Rockets days, dueling pianist Evan Mercer with his trademark riffs. The EP closes with the gut-wrenching "Ray Charles Records" as Smillie finds his ex's old LPs and takes a painful walk down memory lane, with Motor City Josh contributing some emotional slide guitar.As always, ace drummer Todd Glass never disappoints, handling the various grooves and styles with ease. Lonesome For a Long Time is a satisfying, if brief (no filler!), collection of well-written and produced songs with heart-tugging lyrics sung from deep down in the soul.
BLUES MATTERS MAGAZINE (Oct/Nov 2019) - Adrian Blacklee (U.K.)
"This six track EP includes all self-written material by Detroit-based powerhouse vocalist Pat Smillie. While he has a powerful voice, there are also plenty of subtle soulful elements included and together this creates a very warm vibrant sound. Pat was raised in Detroit where his early influences were the Motor City artists that included the Temptations, Wilson Picket and Bob Seger. He has fused these styles into his trademark sound which is solid soulful blues aided by good quality songs and a full backing band that includes some cracking horn playing arranged by KeithKaminski. He has dedicated this mini-album to his inspirations; Joe Cocker, Chuck Berry, Otis Clay and Dennis Edwards, all of these artists influences can be clearly heard on this album. Difficult to highlight any particular song, although, the rocking 'Boulder City Breakdown' is a very catchy number aided by guest guitarist Jim McCarty's (Mitch Ryder) thumping lead guitar soloing work. These six songs represent Pat's first new material for over a decade but on this evidence a full length album cannot come soon enough for me as Pat Smillie is a brilliant vocalist and songwriter."
TWOJ BLUES MAGAZINE (Oct 2019) - Andrzej Matysik (POLAND)
"'I Got an Angel (Waiting up in Heaven for Me)" is an emotional and sensual ballad that finally solidifies Pat in the highest regions of today's high ranking soul performers."
BIG CITY BLUES MAGAZINE (Aug/Sept 2019) - Robert Jr. Whitall (U.S.A.)
"Blue-eyed soul, first rate! You will hear Mitch Ryder and Otis Clay in his vocals. Dig it!"
************************************************************
"Pat Smillie is an amazing vocalist, with a soulful expressive voice. He doesn't just sing; he feels the songs, and he'll make you feel them, too. It's almost as if he becomes possessed by the music. That's how deep it goes."
~Karen Hanson (TODAY'S CHICAGO BLUES)
"Pat Smillie nicely blends blues and soul on the 12-song "Down by the River"...The disc proves without a doubt why Smillie and his band have been a revered local fixture for more than a decade."
~Jeff Berkwits (ILLINOIS ENTERTAINER)
"Many people tell me that the blues has seen better days. That may be true in many cities, but I'd argue strongly that the blues are very much alive and well in Chicago with local bands following in the steps and 12-bar blues of Muddy Waters and Paul Butterfield. The Pat Smillie Band is an example of one of the bands clawing their way up, and I hope they'll land a national record deal soon."
~Eric Steiner (WASHINGTON BLUES SOCIETY)
"Pounding blues rock, funky soul, slick urban R&B, smooth ballads, and even a taste of country…this album ("Letter to Hampton") demonstrates their remarkable versatility to fine effect."
~Kevin Toelle (ILLINOIS ENTERTAINER)
"This amazing album documents the energy and excitement his Stax-style vocals bring to the party. All originals, this still manages to sound classic."
~Waymon Timbsdale (ROCTOBER MAGAZINE)
"Refreshingly mature songwriting."
~Dave Whiteis (CHICAGO READER)
"What's remarkable is Smillie's focus; not content to play the usual lump-de-lump blues standards all the time, he's smart enough to look to the next plateau and create some standards of his own, something seldom seen in Chicago blues."
~James Porter (ILLINOIS ENTERTAINER)
ROBERT PLANT SEAL OF APPROVAL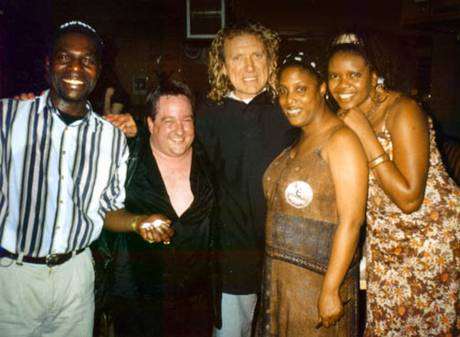 After the 43rd Street Blues Festival, The Pat Smillie Band played a late-night set at the Checkerboard Lounge. None other than British Rock legend, ROBERT PLANT (of Led Zeppelin) was in the house and a new fan was born.

"WOW MATE! F*CKING GREAT!"