"Pat Smillie is an amazing vocalist, with a soulful expressive voice. He doesn't just sing; he feels the songs, and he'll make you feel them, too. It's almost as if he becomes possessed by the music. That's how deep it goes."
 ~Karen Hanson (TODAY'S CHICAGO BLUES)
"Pat Smillie nicely blends blues and soul on the 12-song "Down by the River"...The disc proves without a doubt why Smillie and his band have been a revered local fixture for more than a decade."
 ~Jeff Berkwits (ILLINOIS ENTERTAINER)
"Many people tell me that the blues has seen better days. That may be true in many cities, but I'd argue strongly that the blues are very much alive and well in Chicago with local bands following in the steps and 12-bar blues of Muddy Waters and Paul Butterfield. The Pat Smillie Band is an example of one of the bands clawing their way up, and I hope they'll land a national record deal soon."
 ~Eric Steiner (WASHINGTON BLUES SOCIETY)
"Pounding blues rock, funky soul, slick urban R&B, smooth ballads, and even a taste of country…this album ("Letter to Hampton") demonstrates their remarkable versatility to fine effect."
 ~Kevin Toelle (ILLINOIS ENTERTAINER)
"This amazing album documents the energy and excitement his Stax-style vocals bring to the party. All originals, this still manages to sound classic."
 ~Waymon Timbsdale (ROCTOBER MAGAZINE)
"Refreshingly mature songwriting."
 ~Dave Whiteis (CHICAGO READER)
"What's remarkable is Smillie's focus; not content to play the usual lump-de-lump blues standards all the time, he's smart enough to look to the next plateau and create some standards of his own, something seldom seen in Chicago blues." 
 ~James Porter (ILLINOIS ENTERTAINER)
ROBERT PLANT SEAL OF APPROVAL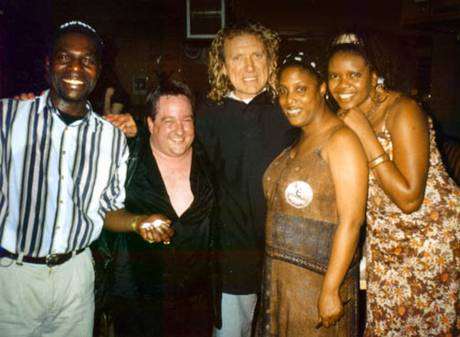 After the 43rd Street Blues Festival, The Pat Smillie Band played a late-night set at the Checkerboard Lounge. None other than British Rock legend, ROBERT PLANT (of Led Zeppelin) was in the house and a new fan was born.

"WOW MATE!  F*CKING GREAT!"