REVIEWS FOR "LAST CHANCE" (2021)
ABS MAGAZINE (JUNE 2021) - JEAN-LUC VABRES (FRANCE)
Pat Smillie has, for many years, scoured the clubs of the south side and the west side of Chicago alongside the greatest, like Vance Kelly, Otis Clay, Willie White, Lil 'Bobby Reynolds and many others. . Having seen him many times at Gene's Playmate, his performances were always exemplary. Originally from Detroit, he decided to return to his roots in 2015 to settle again in the city where he grew up. This new session, recorded during the pandemic, was produced by guitarist Motor City Josh; it once again puts forward, on the eight original compositions proposed, all the talent of the singer who made his classes by listening to Joe Cocker, Delbert McClinton, Otis Redding but also all the legends of the west side of the Windy City. With the title "Heart In A Headlock", the album starts off with a sound that reminds us of the heyday of Motown, thanks in particular to a very good brass section led by Walter White on the trumpet and Keith Kaminski on the saxophone, this the latter having notably worked alongside the illustrious Bob Seger. The very successful composition "Something On My Heart" pays homage to the late Otis Clay, when the singer of "I Die A Little Each Day" was recording with Willie Mitchell for his famous label HI Records. "Nae Nae (Month Of Sundays)" is overtly soulful with a strong nod to Wilson Pickett's work, while the excellent composition "All The Way In My Corner" will quickly become a classic in the singer's repertoire, as it is accomplished. Let's not forget "Broke Down Chevy # 2" with the participation on the guitar of one of the glories of Motor City, Jim McCarty. "Last Chance" shakes up the compass by heading south with its New Orleans groove. This new album magnificently highlights all the class but also the musical palette of the artist, Blues, Soul and Rock have no more secrets for this singer after all these years spent in clubs. Pat Smillie delivers today the best of his production with an important CD that will satisfy the most demanding. A great success.
BIG CITY RHYTHM & BLUES MAGAZINE (JUNE/JULY 2021) - ERIC HARABADIAN (U.S.A.)
Are you ready for some old school soul music? I mean that gritty-and-funky- with-a-heaping-helping-of- melody-type soul music? Well, buckle up, my friends, and let Detroit native son Pat Smillie put you in the driver's seat! Here are eight songs of distinction penned by Smillie and co-writer/producer and guitarist Motor City Josh.
Smillie and company bust out of the gate, with the Motown-meets- Memphis groove of "Heart in a Headlock." The leader's vocals fall somewhere between Otis Redding and Wilson Pickett, with a horn chart by saxophonist Keith Kaminski that will knock you on your ass! Clever turns of phrase and a festive vibe set a party-like standard from the get-go. "Something on My Heart" follows and brings the temperature down a little bit to simmer. Smillie plays it cool atop a mid tempo Al Green-like scenario. It's a smooth beat that's poetic, jazzy and prominently features backing vocalists and arrangers Tina Howell and Ashley Stevenson. "Broke Down Chevy #2" is a strong rocker that spot- lights Jim McCarty on lead guitar. All the elements are here to make this a memorable single and a radio favorite. Shades of Cactus, Bob Seger, Mitch Ryder and Joe Cocker come to mind the way Smillie delivers the line "I was a broke down Chevy till she loved me like a Cadillac." "Last Chance" has an air of New Orleans flair fostered by Motor City Josh's fine Lowell George-type slide guitar work. Bassist Chris Smith and drummer Todd Glass really lay it down, giving considerable weight to Smillie's ironic words of desperation to a lover on the rocks. "Josephine" has a haunting quality in the vein of John Prine or, even, early Dolly Parton. It's kind of a dark and mysterious song to one half of a relationship where the truth is murky and one must come clean. The lyrics never really reveal what the offense was. It's kind of left to the interpretation of the listener. "Drinkin' and Druggin'" seems to be autobiographical. It's a serious commentary on a past life, but with a lighthearted and fresh perspective. It's a boogie-type rocker, with great interplay from guitarists Jason Bone and Brendon Linsley. "Nae Nae (Month of Sundays)" is fun, funky and showcases intricate Freddie King-like guitar from Linsley coupled with Tower of Power-type attitude from Kaminski and trumpeter Walter White. There is a swing and a swagger to the album closer "All the Way in My Corner." The title serves as a hook which destines this track for single status right off the bat. It's a stone cold, old school love song that will hook you from the first verse. Tasty guitar from Johnny Rhoades and Evan Mercer's proverbial keyboards throughout really support this tune nicely.
Pat Smillie is a veteran singer-songwriter that certainly draws from touchstones of the past. But, in doing so, puts a fresh spin on the blend of rock, blues and soul, keeping it vibrant and relevant for many years to come.
CHICAGO BLUES GUIDE (APRIL 2021) - LINDA CAIN (U.S.A.)
Pat Smillie is a one-man Blues, Soul and Rock 'n' Roll Revival. Sweat, soul and passion ooze out of every pore each time the Detroit native performs – which is not surprising given that Smillie spent his formative years in Chicago where he paid his dues in rough joints like the Checkerboard Lounge learning from the masters. He moved to Chicago in 1992 to attend grad school at Loyola University, but after three years his studies "derailed" in favor of the lessons he was taught in the South and West Side blues clubs, where he religiously attended shows by Magic Slim, Big James & The Chicago Playboys, Vance Kelly & the Backstreet Blues Band, Melvina Allen, Chick Rodgers and more.
Vance Kelly nurtured the budding singer/songwriter/performer by letting him sit in every night for 2 1/2 years at the Checkerboard Lounge. "Vance was very generous with his stage time and offered me great advice about working the stage. He always made sure the band played my songs as well as his own," Smillie recalls fondly. This led to a Wednesday night residency in 1996 for Smillie's own band at the club which lasted 1 ½ years. Robert Plant and Arny Granat of Jam Productions attended one of Smillie's shows there and were hugely impressed. Jam Productions booked Smillie to open for acts like Dan Aykroyd & Jim Belushi, Robert Cray and Bob Seger (at a sold out show of 18,000 at the All-State Arena in Rosemont, IL).
Smillie's affiliation with Kelly exposed him to Soul Blues royalty Tyrone Davis and Otis Clay, who saw him perform and were also impressed. "They were VERY gracious and supportive of my efforts," Smillie notes. Tyrone booked Smillie's band at his club in late 1995 and Otis called him up to sing on stage at Rosa's Lounge where he was spotted by festival promoters. Smillie and his band played Chicago Blues Festival in 2003 and 2005; they also went on tour across Eastern Europe in 2011. "It was a dream come true," he reminisced.
In 2019 Smillie released an acclaimed six-song EP titled Lonesome For A Long Time, featuring some of Detroit's finest joining him in the studio.
Smillie spent the 2020 Covid lockdown composing new songs; he and the session band hit the recording studio to create Last Chance, a sparkling new eight-song album that's as shiny and revved-up as a Mustang just off the Motor City assembly line.
Smillie's vocals are as powerful as a Ford pickup truck engine and so are the well-crafted original tunes. Smillie and Motor City Josh (a.k.a. Josh Ford) collaborated on the songwriting and production, which are top notch and a pleasure for the ears. Josh also contributes guitar and he is joined by many of the same players from the Lonesome sessions including: horn arranger and sax man Keith Kaminski, trumpeter Walter White, Evan Mercer on keys, guitarist Johnny Rhoades, backing vocalists Ashley Stevenson and Tina Howell, drummer/percussionist Todd Glass, and bassist Chris Smith. Guitarists Brendon Linsley and Jason Bone contribute to a couple tracks as well.
"Something on My Heart" finds the horn players blowing smooth and mellow on this mid-tempo Al Green/Otis Clay style ballad. Smillie sings solemnly about heartaches that you know he's lived through, as the "sweet soul sisters" comfort him with their harmonies. A groovy duet between pianist Mercer and guitarist Rhoades adds a special jazzy touch to this poetic tune.
Guitar great Jim McCarty makes a guest appearance to play lead on "Broke Down Chevy #2," a reprise of Smillie's signature song that he previously recorded on a 2006 release, Down By The River, from his days in Chicago. "I was a broke down Chevy/ Until she loved me like a Cadillac"; Smillie sings it with gravel in his voice and redemption in his soul, backed by McCarty's tough, gritty guitar and a backbeat that's so funky you can smell it (to borrow a phrase from Buddy Guy).
Smillie and crew take us down to New Orleans for the title track "Last Chance," featuring hip-shakin' Big Easy beats and Sonny Landreth-worthy slide guitar by Motor City Josh. "Tonight's your last chance/ To fall in love with me" is the final plea to a longtime lover who is now giving him the cold shoulder.
"Josephine" has a cinematic, dreamy quality that recalls a misty bayou shrouded in mystery. Smillie weaves a tale about a duplicitous woman that is reminiscent of Levon Helm and The Band.
"Drinkin' & Druggin' " is high octane rock 'n' roll about Smillie's former hard livin' lifestyle that was fun while it lasted, but nearly killed him. Having to spend "30 days locked up in Cook County" was the wakeup call that led to his sobriety.
Pat Smillie is a survivor; he's been buried in the blues and lived to tell about it in his music. As a tunesmith, he is an expert storyteller who writes about personal, yet universal, truths that come straight from the heart. And with every word he sings, Smillie gives us a little piece of his heart. The musicians he has aligned with in Motor City are the perfect fit for this talented artist's songs that can move both your body and your soul.
https://www.chicagobluesguide.com/post/pat-smillie-last-chance
BLUESNEWS (JULY 2021) - JORG PALITZSCH (GERMANY)
R&B singer-songwriter Pat Smillie has a knack for variety. He passionately presents his songs in different musical settings: soul, rock and blues. And you can quickly hear in which tradition Pat Smillie stands. His sound, his vibrato. and the phrasing of his singing are high art.
SOULTRACKS.COM (JUNE 2021) - KEIVU KNOX (USA)
When you think of music from Detroit, one of the first examples - if not the first - most will envision is the classic "Motown Sound" from the 1960s. Hard percussion and horns, along with passionate vocals and melodies that everyone can sing. Sixty plus years after that sound was defined, native Detroiter Pat Smillie is doing his best to keep the sound alive on his latest single, "Heart in a Headlock."

Originally from Detroit, Smillie earned a reputation as a powerhouse vocalist on the Chicago blues scene, including a residency at the legendary Checkerboard Lounge. Ultimately, he relocated back to the Motor City in 2015 and has not missed a beat. The leadoff single from Smillie's Last Chance album, "Heart in a Headlock," is a fun number that talks about how hard it is to get over a lover from the past. No matter what Smillie tried to do, he realized that, "it all went wrong, she's got my heart in a headlock." Co-written with Josh Ford, and backed by Keith Kaminski's horn arrangement, the song leans heavily on Smillie's blues chops to deliver an inspired vocal.

While some attempt to recreate successful sounds and try so hard that they miss the mark, Pat Smillie plays to his strengths and the result is a song that isn't overpowering but effectively shows what a Motown Revue would sound like in 2021.
https://www.soultracks.com/first-listen-pat-smillie-heart-in-a-headlock
BACK TO THE ROOTS (JULY 2021) - HANS BLANKAERT (BELGIUM)
Sincerely, very sincerely, I have to regard singer-songwriter Pat Smillie and his comrades as talented musicians whose songs are like colorful emeralds, cut with love and craftsmanship, resplendent in all their naturalness...this music was created with a pumping heart, at least that's how I feel.
Pat Smillie and guitarist, bandleader, and producer Josh Ford (aka "Motor City Josh") take us on an endless journey with stops in between, bathed in the early Detroit rock 'n' roll, Chicago blues, and especially the soul from cities like Detroit and Memphis...these songs remind you that this fantastic roots music is built on an architecture of blood honest musicians who deal with the sound of a rich musical past with great respect.
VIVASCENE.COM (JUNE 2021) - RANDALL PARRISH (CANADA)
This is Smillie's fifth release, and it all comes together masterfully. All eight songs are steeped in a soulful music stew with heaping helpings of old school R&B.

Smilie's vocal is a simply splendid jewel of a treat; smokily blue with a scoop of gravel grit that deeply satisfies.
https://www.vivascene.com/pat-smillie-last-chance-album-review/
REVIEWS FOR "LONESOME FOR A LONG TIME" (2019)
BIG CITY RHYTHM & BLUES MAGAZINE (Dec 2019/Jan 2020) - Bob Monteleone (U.S.A.)
"Pat Smillie is a Detroit-based soul/blues singer who performs with his own band as well as with guitarists Jim McCarty (Detroit Wheels, Cactus) and Dennis Coffey (Motown session luminary). Originally from Detroit, Smillie earned a reputation as a powerhouse vocalist on the Chicago blues scene, including a residency at the legendary Checkerboard Lounge. Relocating back to the Motor City in 2015, he hooked up with the esteemed guitarist, bandleader and producer Josh Ford (aka Motor City Josh). Lonesome For A Long Time is Smillie's first release in ten years, a six song EP filled to the brim with full productions, four of which feature Keith Kaminski's (Bob Seger) horn arrangements. Produced by Ford (who plays bass on the recording) and Smillie at Ford's Sound Shop Studio, all of the songs are originals, mostly co-written by Smillie and Ford. Smillie is kind of a northern version of Delbert McClinton, effortlessly handling blues, rock and soul styles in the vein of Joe Cocker, Mitch Ryder and classic soul singers Otis Redding and Wilson Pickett.The catchy "Ain't No Doubt About That" starts things off with a bouncy Motown groove, with the ever present horns punctuating the accents with back-up vocals from Tina Howell and Ashley Stevenson, who sweeten five of the tracks. The title track is built on a strong early 70s Memphis backbeat, and sounds like it could have come off a classic Bob Seger or (gulp!) Kid Rock album. Nice solo by guitarist Johnny Rhoades. "Boulder City Breakdown" is a vehicle for guest Jim McCarty, who takes us back to his Rockets days, dueling pianist Evan Mercer with his trademark riffs. The EP closes with the gut-wrenching "Ray Charles Records" as Smillie finds his ex's old LPs and takes a painful walk down memory lane, with Motor City Josh contributing some emotional slide guitar.As always, ace drummer Todd Glass never disappoints, handling the various grooves and styles with ease. Lonesome For a Long Time is a satisfying, if brief (no filler!), collection of well-written and produced songs with heart-tugging lyrics sung from deep down in the soul.
BLUES MUSIC MAGAZINE (Winter 2020) - A.J. Wachtel (U.S.A)
"He comes from the Joe Cocker school of singing - a throaty, take-no-prisoners, powerhouse voice bursting with passion and preaching. He has a 'saints and sinner' voice that sounds like it has experienced all the highs and lows of life and is now screaming and shouting them back to you...a masterful and soulful r&b vocalist."
BLUES MATTERS MAGAZINE (Oct/Nov 2019) - Adrian Blacklee (U.K.)
"This six track EP includes all self-written material by Detroit-based powerhouse vocalist Pat Smillie. While he has a powerful voice, there are also plenty of subtle soulful elements included and together this creates a very warm vibrant sound. Pat was raised in Detroit where his early influences were the Motor City artists that included the Temptations, Wilson Picket and Bob Seger. He has fused these styles into his trademark sound which is solid soulful blues aided by good quality songs and a full backing band that includes some cracking horn playing arranged by KeithKaminski. He has dedicated this mini-album to his inspirations; Joe Cocker, Chuck Berry, Otis Clay and Dennis Edwards, all of these artists influences can be clearly heard on this album. Difficult to highlight any particular song, although, the rocking 'Boulder City Breakdown' is a very catchy number aided by guest guitarist Jim McCarty's (Mitch Ryder) thumping lead guitar soloing work. These six songs represent Pat's first new material for over a decade but on this evidence a full length album cannot come soon enough for me as Pat Smillie is a brilliant vocalist and songwriter."
TWOJ BLUES MAGAZINE (Oct 2019) - Andrzej Matysik (POLAND)
"'I Got an Angel (Waiting up in Heaven for Me)" is an emotional and sensual ballad that finally solidifies Pat in the highest regions of today's high ranking soul performers."
BIG CITY BLUES MAGAZINE (Aug/Sept 2019) - Robert Jr. Whitall (U.S.A.)
"Blue-eyed soul, first rate! You will hear Mitch Ryder and Otis Clay in his vocals. Dig it!"
BG: BLUES AND MUSIC NEWS (10/26/19): PAT SMILLIE: MOTOR CITY MUSIC MAN HITS A HOME RUN WITH "LONESOME FOR A LONG TIME" - Todd Beebe (U.S.A.)
https://bg.buddyguy.com/pat-smillie/
WLLZ 106.7 FM (10/11/19): PAT SMILLE: THE NEW GENERATION OF BLUES IN DETROIT - Doug Podell (U.S.A.)
https://www.spreaker.com/user/11175036/doc-pat-smillie?fbclid=IwAR1blF3zXOzepA_6orF2qzzQrW1wLDq3bmhtYXoAhpUytZlpBdXb_0BdMOk
METRO TIMES (10/9/2019): City Slang / Staff Pick - Jerilyn Jordan (U.S.A.)
https://www.metrotimes.com/city-slang/archives/2019/10/09/metro-detroit-rock-mainstay-pat-smillie-releases-first-record-in-a-decade-at-token-lounge
************************************************************
"Pat Smillie is an amazing vocalist, with a soulful expressive voice. He doesn't just sing; he feels the songs, and he'll make you feel them, too. It's almost as if he becomes possessed by the music. That's how deep it goes."
~Karen Hanson (TODAY'S CHICAGO BLUES)
"Pat Smillie nicely blends blues and soul on the 12-song "Down by the River"...The disc proves without a doubt why Smillie and his band have been a revered local fixture for more than a decade."
~Jeff Berkwits (ILLINOIS ENTERTAINER)
"Many people tell me that the blues has seen better days. That may be true in many cities, but I'd argue strongly that the blues are very much alive and well in Chicago with local bands following in the steps and 12-bar blues of Muddy Waters and Paul Butterfield. The Pat Smillie Band is an example of one of the bands clawing their way up, and I hope they'll land a national record deal soon."
~Eric Steiner (WASHINGTON BLUES SOCIETY)
"Pounding blues rock, funky soul, slick urban R&B, smooth ballads, and even a taste of country…this album ("Letter to Hampton") demonstrates their remarkable versatility to fine effect."
~Kevin Toelle (ILLINOIS ENTERTAINER)
"This amazing album documents the energy and excitement his Stax-style vocals bring to the party. All originals, this still manages to sound classic."
~Waymon Timbsdale (ROCTOBER MAGAZINE)
"Refreshingly mature songwriting."
~Dave Whiteis (CHICAGO READER)
"What's remarkable is Smillie's focus; not content to play the usual lump-de-lump blues standards all the time, he's smart enough to look to the next plateau and create some standards of his own, something seldom seen in Chicago blues."
~James Porter (ILLINOIS ENTERTAINER)
ROBERT PLANT SEAL OF APPROVAL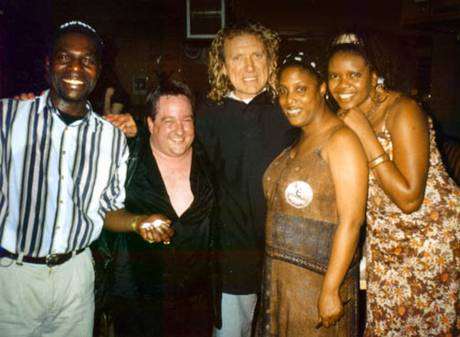 After the 43rd Street Blues Festival, The Pat Smillie Band played a late-night set at the Checkerboard Lounge. None other than British Rock legend, ROBERT PLANT (of Led Zeppelin) was in the house and a new fan was born.

"WOW MATE! F*CKING GREAT!"